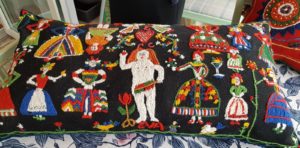 The moment we find the theme for the following Festival – that's the birth of the show! And we really enjoy it! That theme will be our target for preparing the show. We try to connect to it in all aspects of the show – maybe we exaggregate the impact of our ambitions, perhaps we are the only ones who can notice it. But does it matter? The main purpose is to follow the path – wherever it will lead us…..
The Swedish exhibitors have now applied to participate in the show. As we do have more applications than we can make room for – we have to make a choise. That is a really delicate and challenging task. We aim to create a market of really good quality. As you understand we don't work under the rule "First to come….". Our international exhibitors are welcome to apply up to the 31th of December. 2018 we had the honor of welcomming exhibitors from seven countries and visitors from a lot more.
An important question is where to stay? Where can I get a good night's sleep and "renovate" myself during my stay? A lot of the visitors prefer staying 2 or 3 days – otherwise they will miss parts of the show! The exhibitors need to come one day before the show starts. We invite privat and proffesional landlords to advertise on our website. You will find their offers here later on.
Official web site for the municipality, incl hotels, B&B
Adress to the Show is Karlslundsgatan, 665 61 Kil